When customers purchase your products on Local 2 Pets, they must choose a date for receiving their purchases. If you offer delivery, the customer may choose for you to deliver the products to them. Local 2 Pets will calculate how much to add to their total, depending on the delivery rates you have chosen, and how far their home is from your farm. If they are outside of the driving distance you offer delivery to, delivery will not be an option for them. If the customer will pickup their purchases from you, they must choose a time within the "Open" and "Close" times you have set. They will pick up the purchases from your farm, unless you have decided to be at a Group Pickup that day. In this case, they will be given the address of the Group Pickup.
Joining a Group Pickup
You can choose to join a Group Pickup that is already scheduled, or you may define your own. This article will demonstrate how to join a Group Pickup that other farmers are already going to be at. This is useful for customers, so that they can pick up all of their proteins at the same time and place.
It helps to have your Admin Dashboard (Settings -> Business Info) open in one tab, or window, and the Group Pickups page open in another. You can reach your Admin Dashboard by going to the arrow next to "Home" and clicking "My Account". You can reach the Group Pickups page by clicking the arrow next to "Shop" and clicking "Group Pickups".
First, choose the pickup you'd like to join. In this case, we'll choose the more popular event in the fictitious "Anywhere, GA". Highlight and copy all of the text after the word "at" in the event title. This is the full location text. You must copy it exactly, in order to show up in the same bucket.



Next, return to your Admin Dashboard and paste the text into the Group Pickup: Location (full address) input box.



Now, enter the same date and similar times that other farmers will also be at the event. If you are able to be at the location on a different day, or if you are setting up a brand new Group Pickup location, make sure you have permission to use the parking lot, first, and then choose the appropriate date and time. You can always contact Local 2 Pets to check if we have already established permission to use a space for a Group Pickup event. After you enter the date and time that you will be there, click Update in the lower right.


Finally, refresh the Group Pickups page to see your details appear.


Setting Farm Hours
In your Admin Dashboard on Settings -> Business Info, you will see Business Hours on the right. Choose times during any of the days of the week, that you wish to allow customers to come to your farm to pick up their purchases. Customers will be asked to specify the time that they will arrive.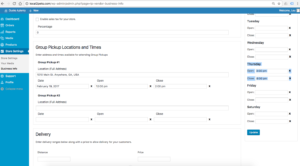 Offering Delivery
In your Admin Dashboard on Settings -> Business Info, you must first have Open Business Hours on the right for the day you will offer delivery. Then scroll all the way down, and in the main panel you will see the Delivery section, and "add a rate" button. For your first rate, you may set a distance (in miles) that you are willing to drive to deliver the purchases to someone's house (or "delivery address" which they may set when checking out.) You can set a fee that you will charge the customer for delivering within that rate's distance. You may also add a second, larger distance, and appropriate fee for that rate, as well. You may add as many different rates, as you like. Local 2 Pets will calculate the additional cost to add to the customer's bill depending on the driving distance their delivery address is from your farm.