On a sunny but cool Saturday morning, traffic was light as we passed through Atlanta on our way to Swanson Family Farms. I was introduced to Chip at the Georgia Organics 20 year Anniversary Conference, and was excited to learn more about his operation. He had great things to say about the other farmers he did business with. It sounded as if he initiated joint-marketing and co-operative selling more often than other farmers I had met, and I was looking forward to visiting his farm.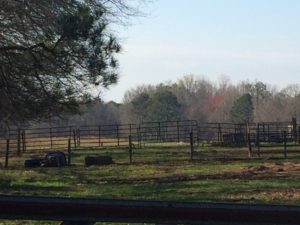 "Watch for the chicken coop, as the GPS tends to take you to a subdivision," Chip had told Aleksandra. Soon enough we saw by the addresses that we had missed our mark. "I bet you it was that place with the hoophouse back there," I offered. I had recently learned that a hoophouse was a kind of greenhouse that looks more like a round tunnel. Indeed, a high tunnel is another name for the structure. I figured someone that has a hoophouse must be a farmer.
We pulled up into a fence-lined driveway with a gate at the end. We parked at the gate and saw a large beautiful dog loping towards us. He climbed on the fence to a two-legged standing position, and poked his head through to look us over.
We saw a boy up near the house, but he did not seem to notice us. Soon Chip emerged from the garage and came to greet us. He opened the gate and we pulled inside. After I turned the car around to face the gate again, being careful not to get too close to the great dog, I could see that the short "hoophouse" was actually a long chicken coop. The farm had several gated areas, and in the yard with the coop were chickens and goats, ample green cover for them to nibble on, and various obstacles for them to climb onto and perhaps entertain themselves with.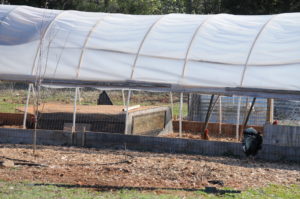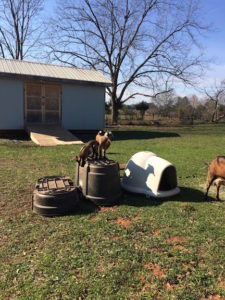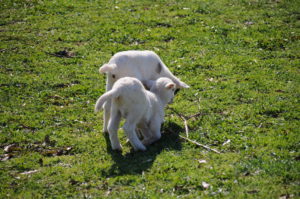 Chip started to tell us about how he rotates the animals through the different plots to give the grass and clover time to grow. He called "Hey pig" a couple of times and the charcoal colored hog turned and ran toward him. "The animals will come when you call, just like dogs," he said "you just have to train them". Dog training was another passion of Chip's. He spoke of friends and business partners who were also dog trainers. Some of them were Raw Feeders already connected to us through social media. "Sometimes we train out here on the farm," he said, and offered to take us to see the cows.
I looked behind the house and saw a barn a couple of plots back. The way he had motioned, I imagined he meant beyond the barn. We followed Chip through a couple of gates and his wife Charmaine and the Perro de Presa Canario named Sir tagged along, as well. I noticed beyond the still wintry skinny trees lining his acreage were privacy fences and suburban homes. I wondered how the animals interacted with his neighbors.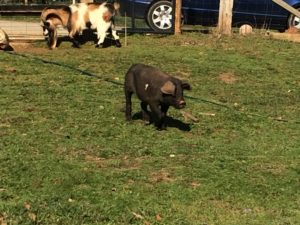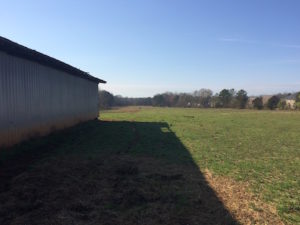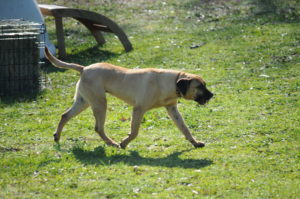 "The bull keeps knocking things down," he said. "I had to put in new fences and a wall in the barn here." I did not see evidence of the damage he talked about. Soon he called out to Sir who was running far off to another gate. "We're not working today, Sir." Chip turned to me, "he's good at flanking the animals and funneling them where they need to go." He reached down to pet the dog. "Good boy. We're not working today. Let's go see the cows."
As we stepped past the barn he bent down to pinch a clover leaf and praise the grass with a slight sound of relief. "The drought really set us back — everyone" he says. The farm seems to have pulled through, or recovered nicely, I think. He points out four or five varieties of grass that are doing well this year. Then looks towards the Georgia Piney cows off in the distance. "Cow," he tried. "They're happy just grazing," he said quietly, then bellowed "Cow." The cows don't seem to move. "Normally one or two of them will look up, at least," he said increasingly softly. They were clearly content grazing under the clear sky, and we were weary after the early morning commute and a long week's hard work. Charmaine took Sir back to the house. Aleksandra and Chip tied off their talk about raw feeding, vaccination, and heartworm medicine, and we turned to head back.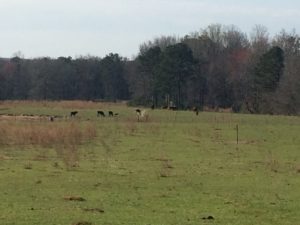 We picked up some beef for ourselves from his freezer. "So you only have one pig?" I asked. "No, we have 50 pigs. They're just at my buddy's farm." As you might know, pigs make more of a mess than other animals, and Chip's farm is where he and his friends prefer to bring customers and host events. We thanked him for the hospitality, shook hands with him and Charmaine, and are now looking forward to seeing them again at the Lilburn Farmer's Market!