Georgia's winter browns and greens accentuate the Appalachian foothills softly yet distinctly in the diffused light as we drive out to meet Cindy at Dry Creek Meats. It is raining earnestly, enough to lift our car up off the road from time to time. Aleksandra negotiates traction expertly with the road, floating only briefly here and there. We are in high spirits as today is our first raw meat pickup as Local 2 Pets, and we're excited to meet new customers and new farmers. First we are going to visit the hog farm and pick up our order.
Cindy says to watch for the first blue house on the left, but it is the large sign for Dry Creek Meat that we see first. USDA pork and beef await, it promises, and sure enough, the blue house looms behind, to the right of the drive as we pull in, but it is from the barn on the left that Cindy emerges in her rain coat to greet us. We follow her into the barn and meet her husband Donny there.
Donny grew up in the house they now live in. His family has owned this land for a hundred years. Donny's mother still thinks he's young, he chuckles through his white beard, though he's been working the family farm for more than half its time.
Cindy grew up in the Navy, and after marrying Donny, it was new to her to set down roots in one place. She remains impressed that Donny enjoys such deep history here. He plans to build a barn across the road where his family has 65 more acres. The barn the hogs use now has historically been used for hay. Donny recalls cutting hay there as a child. He looks forward to designing the new building to allow greater access for getting the animals in and out.
The old hay barn is spacious with several pens for hogs. They seem to mostly be separated by size. Within each pen hogs of different colors forage and sometimes climb on each other. There are milk bins in all pens and where there are piglets there is a sow to mother them. One of the sows with piglets and one of the boars each had pens of their own, as they were very large animals. Maybe five or six hundred pounds Donny says.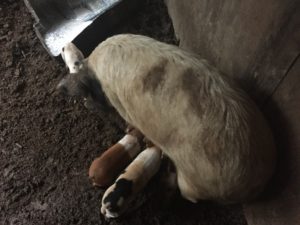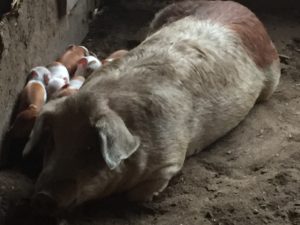 Aleksandra adds: the larger piglets had a toy to play with. The pushed and tugged on a metal rim.
Cindy tells us how she likes to come out and just watch the pigs. It's meditative, she says, and especially enjoys watching the piglets. She shares a story about how in winter they all get in a line and fall down together in a sort of cuddling row, to keep each other warm. Eventually the one on the end gets too cold and forces its way into the middle. Perhaps this pattern repeats after a time, but it might get too cold waiting around trying to catch the play's next act.
There are also more hogs outside of the barn grazing. Sometimes they have cows in on of the larger pens, but none today. It was nice to meet Cindy and Donny, despite the downpour. They encouraged us to try some of their meats, and we took home some packages of sausage and beef. The rain stopped in time for the pickup. A great day for Local 2 Pets!